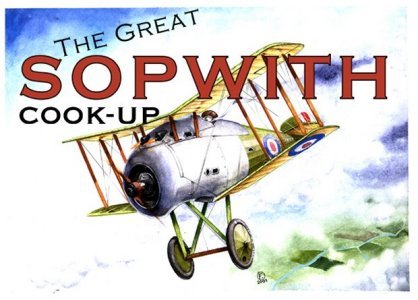 The Great Sopwith Cookup
---
Introduction | Sopwith | Sopwith Modeling | Books & Links
---
Introduction
Welcome to the Great Model Sopwith cook-up. This is part of an ongoing project of the W.W.I Modeler's list. The idea for this online project is to showcase the variety of aircraft and markings the Sopwith factory produced in World War I. Often the British aircraft of the period are tagged as being in boring drab and often ugly. This project will attempt to show that British aircraft of WWI are not a boring subject as well as that there are many attractive schemes and that the aircraft themselves are as beautiful as a German or French designed aircraft of the same period.

The online build is open to all members of the W.W.I list and will be a completely co-operative project. The project will include many list-members some building the models, but also a great number supplying the information and or references that are required to build accurate models of these beautifull aircraft. As with the Albatros build-up, it is hoped that the end results of the project produce a wonderful example of the elegance and beauty of aircraft from this sometimes forgotten period at the dawn of aviation. We might also just show a few non-modelers how easy these aircraft are to build and how easy it is to become hooked on building them.
---
Sopwith Aviation Company at Kingston-on-Thames
Thomas Octave Murdoch Sopwith was born in 1888. A well known pioneer aviator, he later established himself as a designer and builder of aircraft in 1913 at his shed at Brooklands in England. In 1913 Sopwith produced the Tabloid, a fast and clean scout that was initially in 1914 used for it's scouting role. With war escalating and the needs of the aviation arms of Britain and France changing rapidly, the Sopwith factory produced a series of designs from the Baby to the Pup to the agile Triplane. In 1916 the Company produced the Sopwith Camel, a powerful and manouvreable aircraft with twin Vickers machine guns. The development of the Camel, the Sopwith Snipe represented the maximum efficiency that could be gained from the small rotary engined scout. There were also numerous other Sopwith designs, from small nimble scouts, to amphibians to strategic bombers and transport aircraft.

The chief test pilot of Sopwith's was Harry Hawker, a pionering Australian who before his death in 1921 and with the insolvency of the Sopwith company post-war started the Hawker Engineering Company. Which 20 years later was to produce the Hawker Hurricane.

---
Sopwith Modelling Reference
---
References
Books

The Aeroplanes of the Royal Flying Corps (Military Wing), J. M. Bruce, Chatto & Windus 1982
The Camel File, Ray Sturtivant and Gordon Page, Air-Britain 1993
Camel Drivers, O. L. Reed G Roland, Schiffer Publications
Datafile No. 80, Sopwith 1㴲utter, Vol.2, J. M. Bruce, Albatros Publications Ltd.
Datafile No. 60, Sopwith Baby, J. M. Bruce, Albatros Publications Ltd.
Datafile No. 54, Sopwith Dolphin, J. M. Bruce, Albatros Publications Ltd.
Datafile No. 46, Sopwith Snipe, J.M. Bruce, Albatros Publications Ltd.
Datafile No. 34, Sopwith 1㴲utter, J. M. Bruce, Albatros Publications Ltd.
Datafile No. 26, Sopwith F1 Camel, J. M. Bruce, Albatros Publications Ltd.
Datafile No. 22, Sopwith Triplane, J. M. Bruce, Albatros Publications Ltd.
Datafile No. 2, Sopwith Pup, J. M. Bruce, Albatros Publications Ltd.
Datafile Fabric Special, WWI British Aeroplane Colours & Markings, Bruce Robertson, Albatros Publications Ltd.
Datafile Fabric Special, WWI Propellers, Bruce Robertson, Albatros Publications Ltd.
Datafile Special, Sopwith Pup, J. M. Bruce, Albatros Publications Ltd.
Fighter Aircraft of the 1914-1918 War, W.M. Lamberton, Aero Pub Inc 1964
Mini Datafile No. 9, Sopwith Tabloid, J. M. Bruce, Albatros Publications Ltd.
'Pure Luck' The Authorized Biography of Sir Thomas Sopwith 1888-1989 by Alan Bramsom
Sopwith: The Man and his Aircraft, Bruce Robertson, Air Review Ltd
Sopwith Aircraft 1912-1920, H.F. King, Nautical & Aviation Pub Co of America 1981
Sopwith Camel, J.M. Bruce, Arms & Armour 1990
The Sopwith Fighters, J.M. Bruce, Vintage Warbirds No.5
Sopwith Camel: King of Combat, Chaz Bowyer, Glasney Pr
The Sopwith Fighters (Vintage Warbirds, No 5), J.M. Bruce, Arms & Armour 1986
Sopwith Snipe Described, A. Shennan, Kookaburra 1967
Sopwith Aircraft, Mick Davis, Crowood Aviation Series 1999
Sopwith Fighters in Action, Peter Cooksley, Squadron and Signal Publications 1991
Sopwith Pup Profile No. 13
Sopwith Camel F.1 Profle No. 31
Sopwith 7F.1 Snipe Profile No. 50
Sopwith Triplane Profile No. 73
Sopwith 1 1/2 Strutter Profile No. 121
Sopwith Dolphin Profile No. 169


Royal Naval Air Service 1912-1918, Brad King, Hikoki Publications 1997
Victoria Cross WWI Airmen and their Aircraft, Alex Revell, Flying Machine press 1998


Links

World War I Modeling Page
---