Captured Sopwith Pup

Tom Plesha
---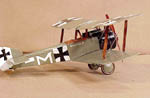 This is a 1/48 scale Eduard kit of the Sopwith Pup. It represents: No.3 Naval Squadron aircraft: N6172 flown by Flt. Cdr. RG Mack who was forced down by Leutnant Paul von Osterroth of Jasta 12 on April 12, 1917. The model represents the Pup after it was rebuilt and remarked and flown by the Germans. Von Osterroth was killed on April 23, 1917, when his Albatros D.III collided with another Albatros during combat with a Pup.
There are only 2 photos that I had to work from, therefore I took license with the letter M on the top wing and the completed cross on the rudder, all else was as I could make out from the photographs. The Pups career after is unknown.
Like the Germans, I had to rebuild the Pup after dropping it near completion.

Wings: thinned & reshaped, aileron pulley/cable holes cut out with pulleys made from .003 thou. aluminum and styrene and cables are .004 SS wire having .003 thou clear styrene covers, cut outs in lower wing for rigging to pass through to landing gear, upper wing separated into center section and outer wing panels, repositioned ailerons. Rigging is functional and made from .004 mono-filiment. Control cables are all .004 stainless steel wire looped with attachment straps at control horns. Rear control cable entry/exit at rear of fuselage are made from steel tubing.

Fuselage: completely thinned with cockpit, framework and bracing made from styrene, aluminum and wire with CSM gauges, rear turtledeck corrected using thread & Primer for the rib effect and styrene for the tail corrections, styrene for engine area and cut out, rear section cut out with a tailskid made from bamboo & bungee from twisted wire. All stringers are shadowed by using thin Dry Transfer Lines on stringers before painting.
Machine Gun: CSM Vickers Gun, modified with ammo belt from tape, rounds from brass rod, guide plates from copper sheet and ammo box from styrene.

Engine: Started with Czech Master Oberursel, cut off the front of the crankcase and made a new one, bolts/nuts are styrene hex rod, cylinders have been cut down with scratched pushrods, rockers and shafts, spark plugs are wire and hex rod. Prop is a Digmayer with CSM prop boss and bolts/nuts are hex rod. Intake tubes are copper wire, carb/air intakes on fuselage are hollowed out styrene rod. Both the prop and engine rotate together.
Landing gear: reworked with .030 brass wire for axle and spreader bars and .003 alum for center axle mounting plates. Fully rigged with .004 thou monofiliment. Bungee cords are wrapped quilting thread. Spokes are simulated using Dry Transfer lines.
Markings: All made from a combination of Micro-scale white decal sheet, A-G crosses and RR Model dry transfers.
Paint: Mr Kit PC-10 & RFC CDL oversprayed with Future. Rib tapes and stringers were all covered with RR dry transfers, painted, then taped off and re-sprayed with color for definition. Engine area, firewall, engine, etc. has a very light wash of Sienna Oil paint for castor oil. There is minimal weathering, etc. because this is a newly re-built aircraft. Mud, dirt, etc. on the wheels is water colors covered with future then with MM Flat.
Wood: Struts are made from bamboo with wire inserts stained with shoe polish and futured. Cockpit, turtledeck,etc. are all sprayed styrene with MM Wood as a base and then grained with shoe polish and a rake/comb brush and oversprayed with future.
The only PE used from the kit is the seat belt/shoulder harness and the control horns for the ailerons, rudder and elevator.
---